The product looks like an alarm clock, the luxury outdoor ultrasonic barking device can be hung on a tree, anywhere in the house or in your yard, it can hang on the table or anywhere else. When the luxury outdoor ultrasonic barking alarm clock detects excessive barking, the microphone will respond to barking and activation parts. At this time, the product will send out a safe high pitch ultrasonic sound, and the dog can hear it, but no one can hear it. The dog is stimulated by the sound and will stop barking. Because ultrasound can make dogs feel sick, dogs will stop barking.
Designed for outdoor use, outdoor ultrasonic barking device is durable and waterproof. There are 3 files of sensitivity (effective range from 4.5,9 to 15.24 m), and a test file. A 9 volt battery is required (not included), and the battery life expectancy is 2 months.
The outdoor ultrasonic barking device has a power indicator. When you leave, it can be set to "Off" to protect the battery. Dogs barking excessively will affect you and your neighbors. The outdoor ultrasonic barking device can effectively prevent dog barking and does not need a collar to receive. It is safe and effective for all breeds and sizes of dogs.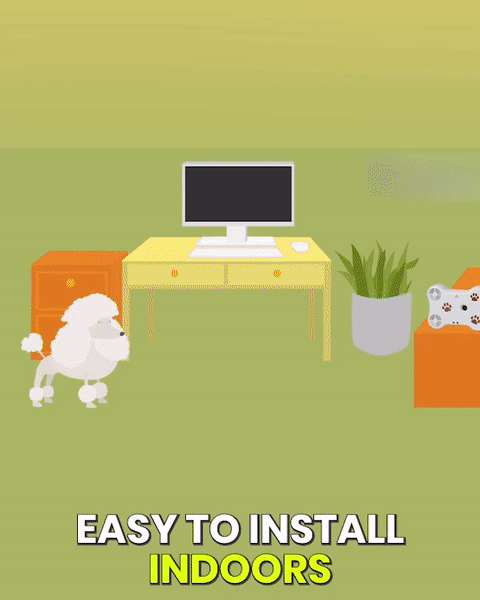 This product is safe for people and animals without any harmful chemicals, and does not pollute the environment.
Made of high and fine quality material, which is waterproof, it is durable and economic for you. 
Effectively prevent a dog to call which affects you and your neighbor's rest.
Package Includes:
1 - House Shape Dog Outdoor Ultrasonic Anti Barking
Shipping:
Please allow 2-3 weeks for delivery
Shipping is only $5.95 flat rate on all orders under $75.  Orders over $75 ship Free!
We source products from all over the world.  We ship products from China, Australia and the United States.
As a result shipping times will vary from 3-10 days from US warehouses (located in California, New Jersey and Texas) to 10 -20 days from International warehouses. Delivery estimates are included in all products descriptions so please refer to the individual product for estimated delivery times.
Tracking information will be provided via email as soon as we receive it. I can take up to 5 days to receive tracking information in some situations so please do not panic if you have not received tracking information. It will be emailed to you. 
If for some reason tracking information is not provided and you do not receive your products within the estimated time frame for that product as provided on the product page please email us so we can investigate the problem.  
100% SATISFACTION GUARANTEE
1. No Risk, 60-Day Money Back Guarantee.
2. 100% Quality Inspection on every order.
3. $5.95 Shipping (over $75 ships free). No surprises or hidden fees.
4. Safe Payments via Credit/Debit Card or PayPal®
5. End to End Tracking for every order.