The hardest thing about installing a new sink or faucet is having to screw in the hard to reach mounting nuts on the pipes that are right against the wall. Instead of pulling a muscle, scraping your fingers to all-hell, and dislocating a shoulder to actually screw one of these in, you could try one of these 8 In 1 Faucet And Sink Installer. They make reaching those hard to reach nuts super easy, and allows you to screw them in with comfort!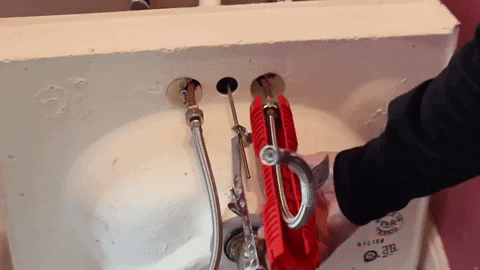 Working at a limited space is difficult and time-consuming, why don't invest on the tools that will enhance your productivity. The Faucet & Sink Installer Tool is the savior, it is the multi-purpose plumbing tool that lets you work faster, easier and more efficiently under-sink on supply lines, fittings and nuts.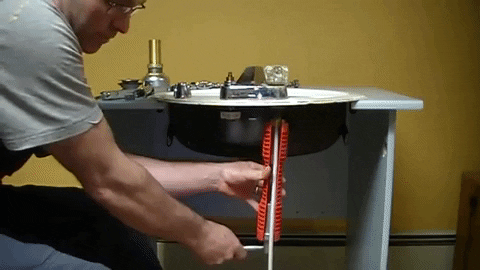 FEATURES:
8 in 1 MULTIPURPOSE WRENCH:

 

The faucet wrench is suitable for supply nuts/shut off valves/strainer baskets/supply line nut/faucet nuts and can work with most common 2, 3, 4, and 6 tab basin nuts. The different slots and holes in the tool fit the various bolts under the sink.
EXTRA-LONG & OPEN SLOT DESIGN: This multipurpose wrench tool is indispensable in replacing an ordinary wrench in virtually every situation as it fit into that tight area with ease. And the faucet wrench allows easy access over existing supply lines so that you will work sitting down outside of the cabinet.
EFFICIENT DESIGN & LABOR-SAVING HOLE:

 

With this wrench tool, it is so much more convenient to access tight area and takes less time to turn hard-to-reach mounting nuts on faucets, sprayers and ball cocks. With the labor-saving hole, it makes the rotation easier for a woman.
GREAT CONSTRUCTION & HANDY TO HAVE IN TOOLBOX:

 

The wrench is made of lightweight, high-strength ABS engineering plastic and durable aluminum alloy inserts. This multipurpose wrench is a must-have for your toolboxes.
Package Includes: 1 x Faucet & Sink Installer Tool
  
Length: 260mm/10.24


Shipping:
Please allow 7-14 days for delivery
Shipping is only $5.95 flat rate on all orders under $75.  Orders over $75 ship Free!
We source products from all over the world.  We ship products from China, Australia and the United States.
As a result shipping times will vary from 3-10 days from US warehouses (located in California, New Jersey and Texas) to 10 -20 days from International warehouses. Delivery estimates are included in all products descriptions so please refer to the individual product for estimated delivery times.
Tracking information will be provided via email as soon as we receive it. I can take up to 5 days to receive tracking information in some situations so please do not panic if you have not received tracking information. It will be emailed to you. 
If for some reason tracking information is not provided and you do not receive your products within the estimated time frame for that product as provided on the product page please email us so we can investigate the problem.  
100% SATISFACTION GUARANTEE
1. No Risk, 60-Day Money Back Guarantee.
2. 100% Quality Inspection on every order.
3. $5.95 Shipping (over $75 ships free). No surprises or hidden fees.
4. Safe Payments via Credit/Debit Card or PayPal®
5. End to End Tracking for every order.